Dealing with returns can be a bit of a hassle, but it's essential to handle them efficiently in order to restock items quickly and keep the flow of new orders going smoothly.
In this article, we'll explore a smarter approach to handling returns, with a focus on using the Storing flow and practical tips for optimizing your bin setup.
Register the returned product in Shopify/ERP
The first step in the return process is to unpack the product, examine its condition and consider if it is sellable and if it should go back to stock.
If the customer has requested a return in the online store, the request for return must be updated and marked as received in Shopify/webshop or ERP.
When the QA process and the returned product is ready to go back to stock, head over to the Pio port workstation to add it back into a bin.
Use the Storing flow
When it comes to adding returned items back to stock, utilizing the 'Storing' flow is key.
While it may seem tempting to use the 'Search' flow and request a bin where you already have the same SKU stored, this approach can cause significant delays as the system has to dig through the grid to locate that specific bin.
Instead, it is always recommended to choose the Storing flow. By doing so, the system will efficiently locate the optimal bin for storing the returned products, saving you valuable time and avoiding any unnecessary slowdowns.
Optimal bin layout for returns
As a general guideline, we advise opting for the smallest bin layout whenever possible. To maximize space utilization, we recommend using 16-split bins specifically for returned clothes and smaller items. This setup allows for multiple returned products to be stored within a single bin, optimizing storage capacity.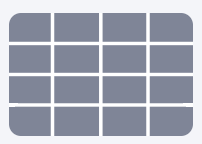 Depending on the picking algorithm of your choice, the single/returned items will by default be prioritized for picking.
Bulk search/inspect for return items
There is also the option to put the returned product in a bin with the same SKU, rather than storing it separately in a 16-split bin. This makes sense if you have only a few items left, and the returned product is a low runner.
Use the 'Search' flow in Pio app and request the bins which you want to restock with the returned products. Add the products in the same compartment and remember to update quantity before sending the bin back.