WARNING
This article is intended for certified Pio Super Users who have completed Pio's Super User course because it requires in-depth knowledge of Pio hardware.
It is dangerous to follow the instructions below if you are not certified Pio Super User.
Please contact your manager to determine who can perform these steps in your company.
The batteries used in the robots are maintenance-free and do not need any service during normal operations.
When it is not possible to charge the robots regularly, e.g. when the system is not operational or if the robot is not working and needs to sent to Pio for maintenance, the batteries must be physically disconnected.
When you get a new robot that will replace a failed robot in your grid, it is possible that the batteries are packed separately in the robot transport case. In that case you should follow the instruction below on how to install batteries.
How to install robot batteries
Remove the robot's top cover:

Hold the top cover's hand grip at the back of the robot
Pull the cover upwards
Remove cover

Make sure the robot is turned off (the emergency stop button is pressed):

Place the first battery in the correct position on the battery floor (the left side of the robot):

connectors on the battery must face towards the robot frame

make sure that the battery is inside the square formed by the rubber feet on the battery floor

Place the second battery in the correct position on the battery floor (the right side of the robot):

connectors on the battery must face towards the robot frame

make sure that the battery is inside the square formed by the rubber feet on the battery floor

Connect both batteries using the connector cables:

left battery should be connected to the front connector
right battery should be connected to the back connector
red cables must be connected to the positive (+) pole
black cables must be connected to the negative (-) pole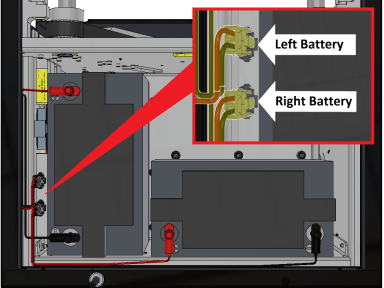 How to remove robot batteries
Remove the robot's top cover:

Hold the top cover's hand grip at the back of the robot
Pull the cover upwards
Remove cover

Make sure the robot is turned off (the emergency stop button is pressed):

Disconnect the first battery:

Press and hold the latch lock
Disconnect the plug by pulling it upwards

Disconnect the second battery:

Press and hold the latch lock
Disconnect the plug by pulling it upwards

Remove the first battery:

Remove the second battery: