Pio robots are known for their durability and strong work ethic. The robot's job is to move bins from point A to point B, and this is done by carrying two main functions: digging and travelling.
Robots are placed on top of the grid, and use tracks to get where they need to go. They travel in four directions, dig up the bins, deliver and receive bins at the ports, and help clean up top of the grid when needed.
Robot specifications
​​Weight: 145 kg (including batteries, without load)
Measurement: L: 988 mm, B: 700 mm, H: 545 mm (with antenna)
Max speed: 3,1m/s (11 km/h)
Acceleration: 0.8m/s
Max load: 30 kg
Robot parts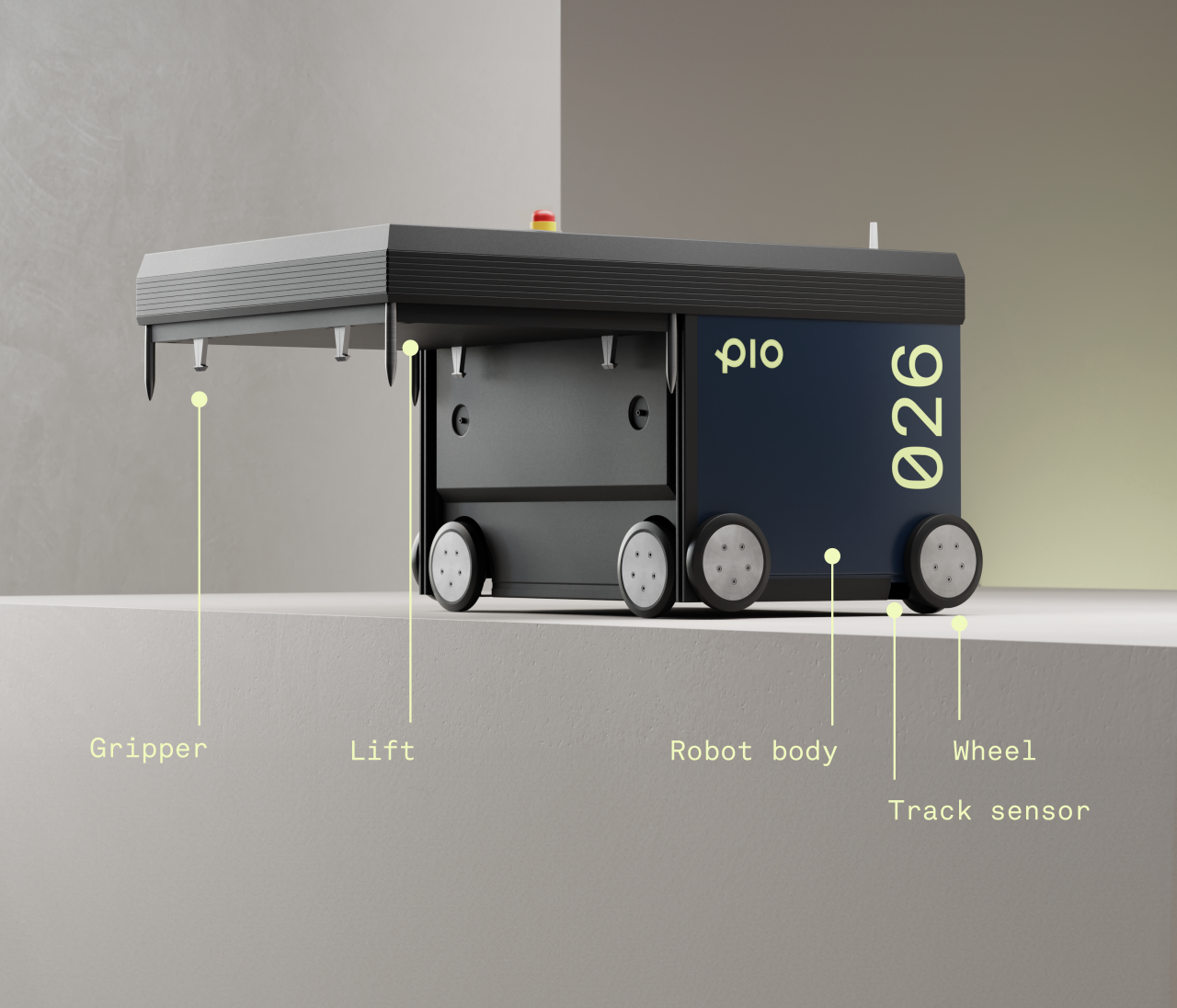 Robots have eight wheels, four in each direction. This allows them to drive forwards, backwards and sideways. Lifting operations can only be done when all eight wheels are down. This keeps the robots safely in place, and gives them the stability that they needs to carry out the task.
When it's time to dig, the robot lower their grippers to correct height, depending on how many bins are stacked up. The grippers are designed to align with the bin corners – once the lift sensor confirms the position, the grippers activate, smoothly lifting the bin.
The lift is equipped with metal bands that facilitate seamless lifting operations and account for any weight distribution changes within the bin.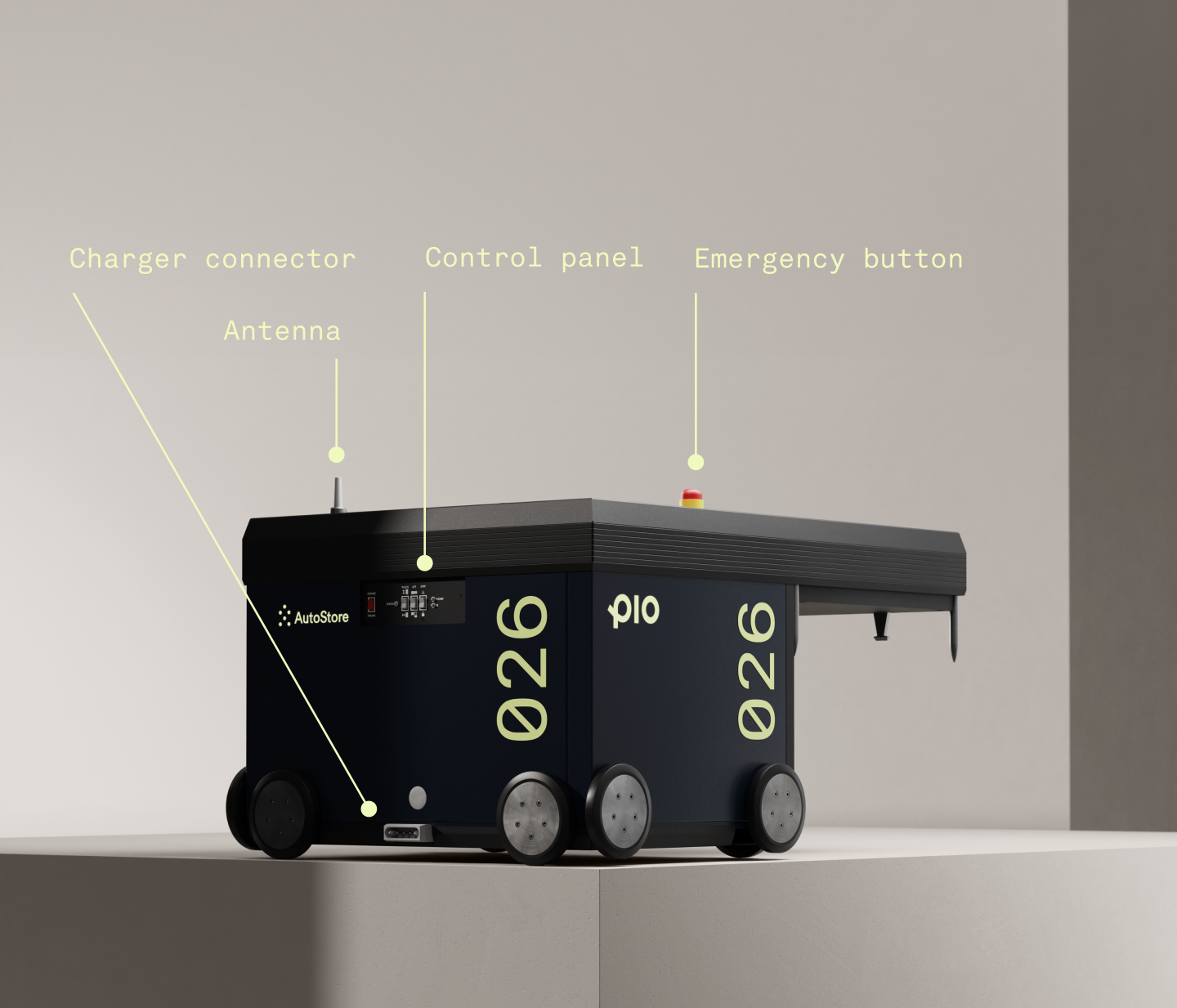 The robots are managed wirelessly and each robot has two rechargeable batteries (2 x 12 volt/105 Ah AGM). Batteries are charged automatically, controlled by the Pio system.
Each robot has an emergency stop button. Press it to stop the robot immediately.
At the rear of the robot is a control panel that allows you to manually control the robot when necessary. The network button is used to power the robot radio on and off. You can also manually open and close the gripper and raise or lower the lift unit and the wheels.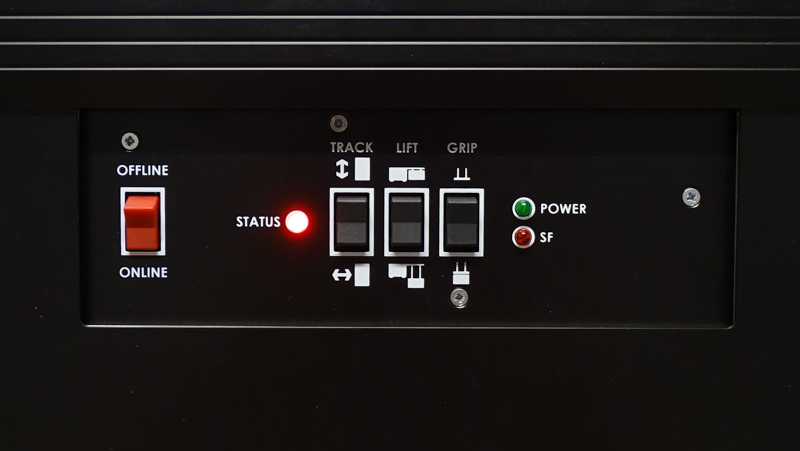 Robots' tasks
All robots' tasks like picking and storing are planned and executed by the controller system, to achieve optimal efficiency and speed.
To reach, and maintain, top speed and efficiency, the system needs about 30 minutes of planning time. This will allow it to prioritize digging operations and deliveries, and still maintain the capacity to complete high priority tasks whenever they might pop up. Once the tasks start rolling in, the robots start working. They will start digging up the items that are needed in the immediate future, and clean up after each other once the goods have been dug up. The system will start planning which bins go to which port, so that the packers can work as efficiently as possible.