WARNING
This article is intended for certified Pio Super Users who have completed Pio's Super User course because it requires in-depth knowledge of Pio hardware.
It is dangerous to follow the instructions below if you are not certified Pio Super User.
Please contact your manager to determine who can perform these steps in your company.
If you ever need to take a bin out of the grid, follow these instructions to ensure that the bins are properly marked "Outside" of the grid.
Please note that you should not need to remove bins in normal operation, as all picking and receiving should be done while bins are presented at the Ports and are safely secured within the Port Furniture.
Removing bins must be done on the Service PC using Customer Console and cannot be done from within the Pio App. Please note that you will need to occupy a Port in order to complete this procedure.
If there are any items in the bin, use Search flow to empty the products first!
Open the Customer Console and go to the Port tab
Click on the port number where you are going to take out the bins so that it is highlighted blue:

Under Interface Commands to the right of the port selection, click the dropdown for Set Port mode and select "Open Receive" and click the adjacent "Play" button
In the Open Bin text field, type in the bin number that you'd like to remove from the grid and have delivered to the port you have selected
Click the corresponding "Play" button and the bin you've chosen will be delivered to the port
After the bin is delivered, click the "Remove Bin ######" button, which will mark the bin as "Outside" of the grid
Change the Set Port mode to "Closed"
At this time, carefully remove the Port Furniture, then remove the bin from the port
Replace the Port Furniture
In the Customer Console, navigate to the Bin tab – you should now see that the bin that you've removed is greyed out and it's Mode is marked as "Outside"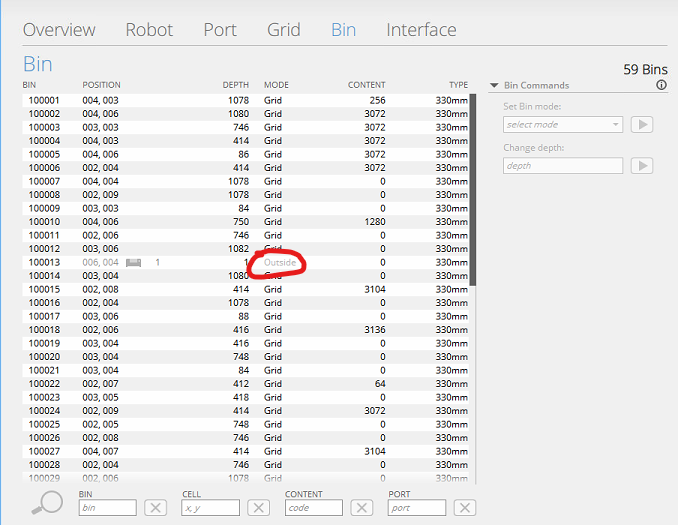 If you've removed the bin with the intention of discarding it permanently because it has been damaged or for some other reason, please contact Pio Support
If you'd like to re-insert bins that have been marked as "Outside", please review this article